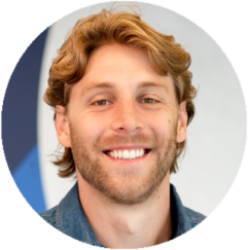 I'm Alex, and I've been part of Virtuagym since 2017. I currently head up the Global Enterprise team.
My day-to-day includes speaking with gym chain executives worldwide, as well as collaborating with other leading suppliers in the fitness industry. I enjoy that we're empowering people to live healthier lives, and I'm lucky to work with peers who share the same passion for health and wellbeing. 
Contributing to Virtuagym's growth and the overall advancement of the sector is something I'm happy to invest my energy in.
Originally from Colorado, I've now been based in The Netherlands and working from Amsterdam for the past 8 years.