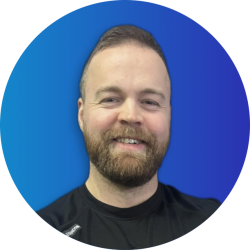 Performance Coach/ Educator
Dan Stephenson is a highly sought-after Strength Coach and Mentor in the PNW and beyond. Dan has over 16 years of coaching experience and has spent the last 9 years at PRO Club in Redmond, WA where he is the Lead Personal Trainer Mentor.
Dan has received multiple awards at PRO Club including Personal Trainer of the Year in 2019 and Performance Coach of the year in 2020. Dan is a competitive powerlifter, competing for more than a decade, and has competed on multiple world championship stages placing 2nd in his weight class and breaking both state and national records.
Dan is known for his intelligent and thorough programming abilities, designing many results driven programs for all training populations. Dan's programming skills and knowledge have earned him many speaking and presenting opportunities to help educate hundreds of fitness professionals better their own coaching and programming skillsets. Furthermore, Dan is a Master Instructor for the Pain-free Performance Specialist Certification Course helping to spread knowledge and education across the world.