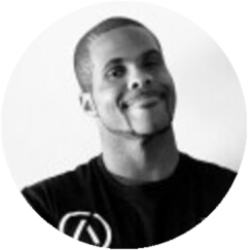 Fit Pro Gameplan Fitness Career Coaching System
Dane Robinson, a native of Baltimore, MD, is a Certified Personal Trainer and Performance Enhancement Specialist through the National Academy of Sports Medicine and has held almost every job in the fitness industry from front desk to training, to regional management.
After spending 10+ years of leading major health clubs to boutique studio start-ups, Dane impacts HUNDREDS of people in private and group training classes in Atlanta, GA, and THOUSANDS of people across the country as a fitness coach for Daily Burn's (US Today's Top 10 at-home workout platforms) episodic show "Daily Burn 365" in New York City.
Dane also serves as an on-demand trainer with Total Gym as a part of their "Total Gym TV" series and can be routinely found as a Total Gym Master Coach on the QVC network.