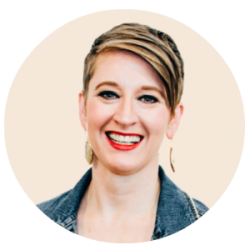 Jenna is a dynamic leader who offers education for your brain, body and business through professional coaching, movement experiences, writing, and speaking. The balanced alignment of this trifecta is the platform from which Jenna helps hundreds of fitness and wellness professionals access mindset shifts, physical resiliency and empowered individuality in their business practices.  
Jenna is a seasoned Pilates Teacher Educator, a Small Business Coach, and a Certified Health Coach through the Institute of Integrative Nutrition. She has evolved her small business from a multi-purpose movement center to an online educational hub and support system for wellness pros. Motivated by her own personal recovery from professional burnout, Jenna hosts online support programs, tours internationally with her speaking and coaching courses and hosts her wildly popular podcasts, Pilates Unfiltered™ and Moving.
Trivia & Interest:
A favorite recipe for a hot day is a "Strawberry Slushee!" 
Gather up some sweet strawberries.
Remove stems with a plastic (reusable) straw.
Add a little H2O to help blend and blend away!
Add lemon/lime/citrus juice to taste.
Add some honey or maple syrup to sweeten.
Add crushed ice or blend in some ice cubes.