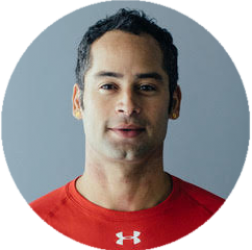 Marc Coronel, B.A. is an industry award winning Senior Master Course instructor and presenter for the TRX for over 10 years. With a recognizable voice from AAPTIV and face seen on Good Morning America, The Doctors, and other news segments worldwide.
Marc has been quoted in IDEA fitness associations magazine numerous times as well as SHAPE, OXYGEN, Men's Health, MyFitnessPal, and other industry fitness publications and podcasts. As a consultant/programmer for companies like Under Armour, MyFitnessPal, Vital Proteins, BeachBody Live, HerbaLife, Bowflex, TRX, LifeFitness, Triggerpoint, AAPTIV (and more), Marc is a much sought after fitness industry professional known for his humor and playful approach to fitness and wellness. He trains large and small group training, as well as athletic performance for MMA fighters and athletes of all disciplines, Law enforcement, EMT's, and more.
As an educator and presenter for different cutting edge fitness companies he has won the overall internal F.A.C.E.U.P. awards for TRX(2012), TP therapy (2014), and presenter of the year at SCW 2016, 2017, 2018, and most recently a finalist for the 2019 IDEA Fitness Inspiration Award. He functions as an international consultant and speaker for gyms, international schools, and businesses and currently owns Energia Fitness LLC, out of Las Vegas, Nevada.