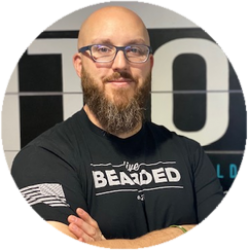 TrainingTheOlderAdult.com
Robert Linkul is the owner of TOA (TrainingTheOlderAdult.com) a personal training studio and online continued education provider for fitness professionals in Shingle Springs, California. Robert is an internationally known continued education provider for fitness professionals with his area of expertise being in resistance training strategies for the Older Adult with physical limitations and/or decreased quality of life.
Linkul has his master's degree in personal training, is the NSCAs 2012 Personal Trainer of the Year award winner, a 2017 NSCA Fellowship inductee, and was voted on to the 2021 NSCA Board of Directors (Personal Trainer Position). 
Trivia & Interest:
I had three minors in college, four years of ballroom dance, greek mythology, and American Sign Language made college years pretty awesome. I excelled at ballroom dance to the point that I was invited to become a semi-professional ballroom dancer once my hammer-throwing career was over.