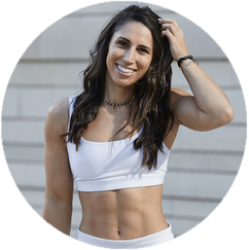 Certified Trainer, Former Gym Owner
Angela Gargano is a fierce athlete, coach, international fitness model, and speaker.
Before becoming a full-time multi-passionate entrepreneur, Angela worked as a biochemist at Brown University. Since throwing in the lab coat and goggles in 2013 to open her own gym in Cranston, Rhode Island, Angela has truly lived multiple lives in the athletic and entrepreneurial space, defying odds and setbacks to become an authentic and relatable voice to the public eye.
Angela has now competed on American Ninja Warrior 4x, won the Title of Miss Fitness America 2016, and created an online fitness empire for women called Strong Feels Good, where she teaches women to ditch the scale and focus on strength and feeling as a way to measure progress. She has also helped over 500 women conquer their pull-ups with her online program, Pull-up Revolution.
In the summer of 2021, Angela appeared all over the world as the Oxygen Magazine Covergirl, where she spoke about tearing her ACL on the Ninja Warrior course and coming back 11 months later stronger than ever.
Angela is a huge advocate for speaking about body image, as she was made fun of growing up for her "manly" arms and build. She would hide in a sweatshirt daily at school to avoid being made fun of and was rejected by many fitness modeling agencies. But this didn't stop Angela from now having 3 magazine covers and becoming an international fitness model in some of the world's biggest publications: Women's Health, Shape, Strong Fitness Magazine, and Popsugar Fitness.