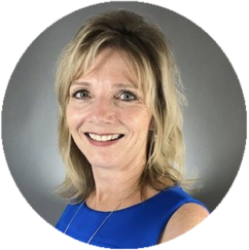 Eve Nasby has served in the San Diego community since 1989 where she moved after graduating from Purdue University.
A few years later she entered the recruitment and staffing world. After over 30 years, of holding leadership roles with global staffing companies, she has become a talent expert.
Eve is an entrepreneur and is the President of a Tech startup, Band of Hands.
Eve enjoyed hosting a few local TV and Radio shows in San Diego which were focused on helping veterans understand their value and highlighted organizations dedicated to their success.  She coordinated, facilitated, and emceed many standing-room-only events which featured corporate leaders expounding upon the value of and strategy behind hiring veterans. She's been a member of the Greater San Diego Chamber of Commerce serving on the Military Advisory Committee, and helping to create programs to encourage companies to employ veterans.
She is co-founder of Professional Military Recruiter and America's Finest TV.   Eve currently co-authors an article for San Diego Veteran Magazine and Homeland Magazine, reaching 4 million veterans and active duty military each month.
Eve continues to actively meet with active-duty military personnel to help them successfully transition while she manages strategy, sales, marketing & customer service for an industry disruptive tech start-up designed to change the way work gets done.