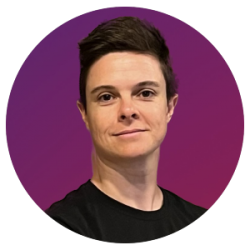 Logan Dube is currently the Director of Education for the Pain-Free Performance Specialist Certification. In this role they teach live & online certifications, build content and run the various tracks of the Mentorship program.
After 20 years playing soccer, including scholarship & international opportunities, Logan found a second career in the fitness industry, spending the last 2 decades in roles including personal trainer, fitness class instructor, studio owner/operator, club manager, multi-unit manager, educator and presenter.
Trivia & Interest:
In additional to strength training, Logan loves functional training modalities like TRX, Kettlebell & Bulgarian Bag and dabbles in movement hobbies like yoga, tai chi, table tennis and surfing. Logan lives in Vancouver, Canada with wife, Allie and cat, Luna. They love to travel, eat great food and watch superhero movies!