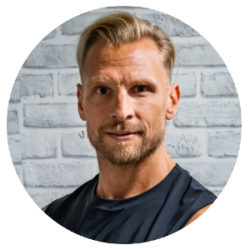 Steve Jordan is a world renowned health and fitness coach with an extraordinary career that spans over 25 years. Steve launched his career as a personal trainer at the White House in 1997-1998 working with government leaders in Washington DC. From DC, Steve moved to NYC in 1999 where he quickly rose to the top of the pecking order of the big apples fitness pros which helped him land awesome opportunities to share his knowledge and passion on national TV including NBC The Today Show, Today In NY, and E!. With an unwavering passion to change lives, Steve felt in his heart the best place for him to do this was in LA where he moved in 2002.
Soon after his arrival in LA, Steve began a full-time position as an educator for The National Academy of Sports Medicine where he trained fitness professionals on the CPT course. Steve's passion for knowledge and sharing education that helped transform his and the career of thousands of other health and fitness professionals around the world. Other industry leaders including Perform Better, Keiser, Power Plate, and The Parisi Speed School recruited Steve to educate and motivate their audiences of fitness professionals and consumers.  
Using the vast knowledge and experience he gained after several years of being a full fledged educator, Steve found his way into the very completive and private niche of working with celebrities, musicians, and pro athletes to transform and take them to the next level. In 2007 Steve opened his own private health and fitness studio called Westwood Private FItness near UCLA. The facility boasts a half-dozen professional coaches and is where Steve has trained many recognizable faces and Hollywood's elite residents. When he isn't training clients he is sharing his knowledge and passion interviewing extraordinary guests on his five-star-rated podcast The Steve Jordan Experience, public speaking, leading fitness and wellness retreats, mentoring fitness professionals, and promoting his new book 22 Ways to Optimal Health and Fitness.
In addition to Steve's outstanding career success, his personal story of a full recovery from a traumatic brain injury in 1994 (which left him nearly dead, paralyzed, and with permanent brain damage) is unbelievable. The lessons learned during his three-year-plus recovery and how he rewired his mind and body to not just survive, but to thrive in life are the foundation that he uses to help transform his clients and his audience.
Steve's accomplishments have been earned by generously sharing his passion and love for changing lives – both inside and out. His teachings have been seen, heard, and experienced by millions on Dr. Oz, The Today Show, E!, The Tyra Banks Show, ABC & NBC News, SELF, Fitness, Men's Fitness, LA Confidential and many others. He has partnered, collaborated, and worked with numerous iconic brands including Apple, lululemon, adidas, Robb Report, Canyon Ranch, Peninsula Hotel, and others. Now, Steve is excited to share his experience to help transform the lives of millions more with his new book 22 Ways to Optimal Health and Fitness.